02/03/2015
Matthew Halsall & The Gondwana Orchestra's Journey In Satchidananda / Blue Nile 12″ / DL is now available via Bandcamp. 
___________________________________________________________________________________
20/01/2015
___________________________________________________________________________________
14/01/2015
EARLY BIRD tickets released on Friday 16th January for Matthew Halsall & The Gondwana Orchestra's performance at Union Chapel in London on Thursday 29th October.
___________________________________________________________________________________
07/01/2015
___________________________________________________________________________________
09/12/2014
iTunes Jazz Album of Year 2014!!
Very pleased to announce that Matthew Halsall & The Gondwana Orchestra's latest album When The World Was One is the iTunes Jazz Album of the Year.

Big thanks to The Gondwana Orchestra musicians: Nat Birchall saxophone, Lisa Mallett flute, Rachael Gladwin harp, Keiko Kitamura koto, Taz Modi piano, Gavin Barras double bass & Luke Flowers drums. Recorded, mixed & mastered @ 80 Hertz Studios | Manchester. Artwork & graphic design by Daniel Halsall.
___________________________________________________________________________________
16/06/2014
RELEASE ALERT NEWS!! Matthew Halsall & The Gondwana Orchestra's new album 'When The World Was One' is out now on CD / VINYL / DL. You can order online from our Bandcamp shop here. 
___________________________________________________________________________________
04/05/2014
Matthew Halsall April dj mix now up on soundcloud:
https://soundcloud.com/matthewhalsall/djmixapril2014 Full tracklisting: 1. Tony Scott – Is Not All One? 2. Matthew Halsall & The Gondwana Orchestra – Kiyomizu-Dera 3. Dorothy Ashby – The Moving Finger 4. The Souljazz Orchestra – East Flows The River 5. Duke Pearson – The Phantom 6. Bei Bei & Shawn Lee – Make Me Stronger 7. Kelan Phil Cohran & Legacy – Sahara 8. Flying Lotus – Getting There 9. Jose James – Blackmagic 10. Erykah Badu – Gone Baby, Don't Be Long 11. Sylvia Striplin – You Can't Turn Me Away 12. Fatima – Circle 13. Dizz1 – Konotakosuke Yaro 14. Mr Scruff – Stereo Breath 15. Harmonic 313 – Problem 2 16. Astrobotnia – Portable Motor Home 17. Aphex Twin – Alberto Balsalm 18. Boards Of Canada – Everything You Do Is A Balloon 19. Ammoncontact – Earth's Children 20. Julien Dyne – Fallin' Down 21. Nightmares On Wax – Luna 2 feat. Wolfgang Haffner 22. Wally Badarou – Chief Inspector 23. Antipop Consortium – Bubblz 24. A Tribe Called Quest – Rhythm (Devoted To The Art Of Moving Butts) 25. Original Flavor – Can I Get Open 26. The Herbaliser – The Real Killer 27. Soho – Hot Music 28. Hans Koller – The Twister (Moonstarr RMX) 29. Theo Parrish – Galactic Ancestors 30. Mr Scruff – We Are Coming 31. Donald Byrd – Here Am I
___________________________________________________________________________________
16/04/2014
Matthew Halsall & The Gondwana Orchestra will be performing at this years Love Supreme Jazz Festival

___________________________________________________________________________________
15/04/2014
Incoming gig alert!!

Matthew Halsall will be performing with his new electronic trio @ Mr Scruff's Roundhouse takeover event on Saturday 31st May 2014. He will be performing new music created by himself, keys player Taz Modi and drummer Matt Davies. Expect lots of sub bass, dubby horns and modern drum vibes.
___________________________________________________________________________________
14/04/2014
Matthew Halsall DJ set @ Band on the Wall on Thursday 17th April.

Matthew Halsall will be dj'ing @ Band on the Wall in Manchester on Thursday 17th April 2014 alongside Werkha (live), Harleighblu (live), Mind On Fire (DJs) and Tru Thoughts (DJs).
___________________________________________________________________________________
07/04/2014
Matthew Halsall will be performing two live shows in Puglia, Italy on Friday 11th & Saturday 12th April 2014
___________________________________________________________________________________
05/04/2014
Ba-da-boom!! Here's the third instalment of Matthew Halsall's monthy dj mix series
https://soundcloud.com/matthewhalsall/djmixmarch2014 Tracklisting: 1. Don Cherry & The Jazz Composer's Orchestra – The Queen Of Tung-Ting Lake 2. Sun Ra – That's How I Feel 3. Tall Black Guy vs. James Brown – Pay Me Back My Money 4. Madvillain – Sickfit 5. Digable Planets – The May 4th Movement 6. Harmonic 33 – In The Beat 7. Asheru & Blue Black – Jamboree 8. Timo Lassy – The More I Look At You feat Jose James 9. Art Blakey & The Jazz Messengers – Cubano Chant 10. Eddie Jefferson – Jeannine 11. King Pleasure – Jazz Jump 12. James Brown – I Got Ants In My Pants 13. Banbara – Shack Up 14. Mr Scruff – Champion Nibble 15. Q-Tip – Manwomanboogie 16. The Long Lost – Woebegone (Flylo's Like Woe) 17. GoGo Penguin – Fort 18. Mr Scruff – Where Am I? 19. Mr Oizo – Ke-ele 20. Theo Parrish – Reaction To Plastic 21. Aphex Twin – Ptolemy 22. Phil France – The Swimmer 23. The Cinematic Orchestra – Necrology 24. GoGo Penguin – To Drown In You 25. Illum Sphere – Near The End 26. Portico Quartet – Steepless 27. Werkha – Le Roitelet 28. Flying Lotus – All In 29. Shigeto – Ann Arbor, Pt. 3 & 4 30. Christian Scott – Who They Wish I Was 31. GoGo Penguin – Kamaloka
___________________________________________________________________________________
31/02/2014
Check out the second instalment of Matthew Halsall's new monthly dj mix series
https://soundcloud.com/matthewhalsall/djmixfebruary2014 Tracklisting: 1. Don Cherry – Love Train 2. Phil Cohran and Legacy – White Nile 3. Erykah Badu – Strawberry Incense feat. Kirsten Agnesta 4. Fatima – Technology 5. Tall Black Guy vs James Brown – Funky Drummers In A Space Suit 6. INI – Square One 7. Asheru – Mood Swing feat. Talib Kweli 8. Grigio Perla – Gian Franco Pienzio 9. Madlib – Distant Land 10. Tableek – Born 11. DJ Krush – What's Behind Darkness 12. Philly – Funky Alcohol 13. Andy Votel – If Nine Was Six 14. Dizz1 – Here We Go Again 15. Harmonic 313 – The Returners 16. Erykah Badu – Fall In Love (Your Funeral) 17. Flying Lotus – Golden Diva 18. Mara TK – Run 19. Bill Withers – You Got The Stuff 20. Billy Love – Can't Keep Running Away 21. Theo Parrish – Love Triumphant 22. Cedric Im Brooks – Africa 23. The Big Beats – Mi Nsumoo Bo Donn 24. Freakniks –Kalimba (flute mix) 25. LCD Soundsystem – 45:33 (Theo Parrish Remix) 26. Universal Robot Band – Barely Breaking Even 27. Michael Jackson – Rock With You 28. Luther Vandross – You're The Sweetest One 29. Ray Mang – Lock & Pop (Edit) 30. All The People – Cramp Your Style 31.  Billy Garner – Brand New Girl 32. The Round Table – Saturday Gigue 33. Moondog – Lament 1 'Bird's Lament' 34. Sahib Shihab – Bohemia After Dark
___________________________________________________________________________________
16/02/2014
Big thanks to everyone who made it down to Matthew Halsall & The Gondwana Orchestra's sold out performance @ Kings Place in London last night!!!

___________________________________________________________________________________
31/01/2014
Matthew Halsall embarks on a new monthly dj mix series
https://soundcloud.com/matthewhalsall/djmixjanuary2014 Tracklisting: 1. Bob Marley & The Wailers – Sun Is Shining 2. Dr. Alimantado – Best Dressed Chicken In Town 3. Revolutionaries – I Know Myself (Megaton Dub) 4. Ernest Wilson – I know Myself 5. Augustus Pablo – Lightening Chap (Version) 6. Glen Adams – You Can't Hide Love 7. Isaac Hayes – No Name Bar 8. Chester Thompson – Powerhouse 9. Chocolate Milk – Time Machine 10. The Invaders – Spacing Out 11. The Natural Yogurt Band – Space Echo 12. Spaghetti Head – Funky Axe 13. Madlib – Montara 14. Andrew Ashong – Flowers 15. Bobby Humphrey – Harlem River Drive 16. Michael Jackson – Baby Be Mine 17. Ingram – DJ's Delight 18. Marcellus Pittman – You Want Me (Never) 19. The Blackbyrds – Rock Creek Park 20. Vannessa Simon – Better Place 21. Theo Parrish – Reaction To Plastic 22. The Invaders – Latin Lips 23. Doug Carn – Time Is Running Out 24. Shake – Lost In Space (Edit) 25. Minority Band – Tasty Tune 26. The Fabulous Souls – Baby I've Got It 27. Sabu Martinez – Hotel Alyssa-Sousse, Tunisia 28. Dr. K. Gyasi & His Noble Kings – Noble Kings (Yako Aba) 29. Nomo – Nutones 30. Pharoah Sanders – Love Is Everywhere 31. Lloyd Miller & The Heliocentrics – Electricone
___________________________________________________________________________________
02/01/2014
Gig alert!! Matthew Halsall & The Gondwana Orchestra will be performing a whole new set of music @ Kings Place in London on Saturday 15th February:
http://www.kingsplace.co.uk/whats-on-book-tickets/music/matthew-halsall-the-gondwana-orchestra#.Uutt0Xd_u3v
___________________________________________________________________________________
15/10/2013
Matthew Halsall & Josephine Oniyama collaboration for BBC Radio 3′s show The Verb, presented by Ian McMillan
Yesterday Matthew Halsall recorded two new live tracks in session for BBC Radio 3′s show The Verb, presented by Ian McMillan. The show will be broadcast tonight (15/11/2013) at 10pm and features guests Ian Rankin, Chuck Palahniuk and Helen Mort as well as Matthew Halsall with Josephine Oniyama on vocals, Rachael Gladwin on harp, Taz Modi on piano and Gavin Barras on double bass.  http://www.bbc.co.uk/programmes/b03h3xdb
___________________________________________________________________________________
16/10/2013
Bonobo to Issue 'Late Night Tales' Mix Album featuring Matthew Halsall
The release of the fifth album from UK artist Simon Green (a.k.a. Bonobo), The North Borders, launched a number of extensive tours for the producer and his traveling ensemble throughout 2013, and that busy year will soon be capped off with a brand-new mix album for the longstanding Late Night Tales series. Green's 21-track set will mark the 33rd installment of Late Night Tales when it drops on November 17, and features a wide range of sounds and styles from the likes of Floating Points, Lapalux, Nina Simone, Shlohmo, Airhead, Dorando, and Bonobo himself, among others. Speaking on his mix, the curator said, "The way I approached this mix was very different to how I would normally do a mix. I wasn't thinking of it as a DJ mix so much as a selection… The criteria for choosing the songs was really music I've been playing at my house over the past 15-20 years." Well before it's released next month, Late Night Tales: Bonobo's tracklist, video trailer, and SoundCloud preview can all be found below. Tracklisting: 01. Dustin O'Halloran – An Ending, A Beginning 02. Khruang Bin – A Calf is Born in Winter 03. Bonobo – Get Thy Bearings (Exclusive Donovan cover version) 04. Dorando – Didn't I 05. Nina Simone – Baltimore 06. Hypnotic Brass Ensemble – Flipside 07. Menahan Street Band – The Traitor 08. Andrew Ashong – Flowers 09. Romare -Down The Line 10 Shlohmo – Places 11 Lapalux – Gutter Glitter 12 The Invisible – Wing (Floating Points mix) 13 Badbadnotgood – Hedron 14 Matthew Bourne – IIV. Juliet 15 Airhead – South Congress 16 Matthew Halsall – Sailing Out To Sea 17 Dorothy Ashby – Essence of Sapphire 18 Peter and Kerry – One Thing 19 Eddi Front – Gigantic 20 Bill Evans – Peace Piece — 21 Benedict Cumberbatch – Flat Of Angles Part 3 (Exclusive Spoken Word Piece) Words: James Eaton Links: YouTube Late Night Tales: Bonobo video Soundcloud Late Night Tales: Bonobo  ___________________________________________________________________________________
28/05/2013
Matthew Halsall will be performing @ Didsbury Arts Festival in Manchester on Friday 28th June 2013
  http://www.tickettailor.com/checkout/view-event/id/8720/chk/1c0a ___________________________________________________________________________________
15/02/2013
Check out Matthew Halsall's interview with Jamie Cullum on BBC Radio 2 on Tuesday 19th February between 7pm-8pm
http://www.bbc.co.uk/programmes/b01qqb88 ___________________________________________________________________________________
24/01/2013
Nice review by Oliver Pickup on Matthew Halsall's performance @ Ronnie Scott's Jazz Club
 RONNIE SCOTT'S | JANUARY 24TH
Virtuoso trumpeting sensation Matthew Halsall ensured he will remain well in front of the chasing pack again this year after an incredible full-house gig during which he revealed a clutch of new tracks and featured the koto – an ancient Japanese instrument seldom heard in Europe. 
It is an exotic, wonderful and captivating object dating back to 700AD. The koto's 13 strings are plucked horizontally and it's magical to behold, let alone listen to. Manchester-based Halsall chose this concert at Ronnie Scott's to introduce it – and some fresh material – to his audience.His timing was well judged. Mid-way through his top-billing set at the famous Soho jazz venue, after Halsall's more-regular quartet – joined by harpist Rachael Gladwin, who provides an enchanting liquidity to his modal jazz – had wowed the capacity crowd with the first five tracks of his acclaimed 2011 album On The Go, the behatted (and more-recently bearded) maestro announced: "There should be a couple of other musicians joining us now."The 29-year-old looked around hopefully, and before long silver-haired Clive Bell hopped on to the stage with a grin, armed with his Japanese flute. "There should be one more," Halsall offered bashfully. Five seconds or so passed before Keiko Kitamura, dressed cap-à-pie in a stunning kimono, breezed past us and settled herself over her koto.The Hiroshima Prefecture-born Kitamura started alone, listeners shifted forward in their chairs to gain a better view, instantly mesmerised by the rich, haunting melody being strung out. The rest of the band – jaunty pianist Taz Modi, Rob Turner (also of GoGo Penguin) on the sticks, double-bassist Gavin Barras – joined in, before Halsall uncoiled from his ducked-down crouching position and blew us away. Just as we thought the night had reached its peak, Halsall beckoned Zara McFarlane, the evening's earlier performer, back on to sing another new track entitled When The World Was One. In his four solo albums – the last of which, Fletcher Moss Park, he released on his own Gondwana Records label in October – Halsall has never before used a singer, so the powerful McFarlane opened up yet another dimension to his growing spectrum of work and nudged his star a notch higher. It was a taste of what Halsall's excited fans can expect later this year; a new direction which will indubitably be gobbled up by the taste maker Gilles Peterson and his cohorts. And deservedly so. Peterson was in attendance at Ronnie Scott's but slipped away before Halsall's encore, a homage to one of his greatest influences, Alice Coltrane, the avant-garde spiritual jazz composer, second wife to saxophone extraordinaire John Coltrane and great-aunt to Flying Lotus. However, the BBC Radio 6Music presenter later took to Twitter to offer his congratulations to Halsall and thank him and McFarlane, whose debut album was produced by his Brownswood Recordings label, for "a stupendous night of music". He added: "Kotos and harps = the future!" The immediate future it may well be for Halsall, and we can't wait to hear much more. Intriguingly, though, there are also whispers that he will concurrently be serving up more goodness on a completely different, electronic vibe. That's all hush hush at the moment, but what's for certain is that 2013 should further elevate this supremely talented musician's reputation and rapidly increasing popularity. Words: Oliver Pickup (@CulturedClown) http://crackmagazine.net/music/matt-halsall/
___________________________________________________________________________________
24/01/2013
Thanks to Tim Cumming's for reviewing Matthew Halsall's performance @ Ronnie Scott's Jazz Club.

Matthew Halsall/Zara McFarlane, Ronnie Scott's
Young Mancunian trumpeter holds the audience rapt, while accomplished vocalist offers spirit and charm
by Tim CummingFriday, 25 January 2013 Halsall: a low, strong and lingering power Fronting her four piece band – pianist Peter Edwards and saxophonist Binker Golding among them – the young jazz/soul singer Zara McFarlane performs a mix of new songs and tunes from her album, Until Tomorrow. Among the former, "Woman in the Olive Groves" is inspired by a midnight taxi ride through southern Italy, passing an African woman by the highway, among the olive groves, trading her sex.This is set beside "Chiaroscuro" – what a word to get your jazz chops around – which gives Golding the chance to demonstrate the effect of light against dark in sound. There's a fine version of her album's title song, and a cover of "Police and Thieves" that wrings the street poetry and stature from it. McFarlane has the voice, the spirit, and the charm; you can tell, and it has an impact.
He demonstrates a sky-blue tone smeared with cloudy spirits, a full-cream sound in an astral body Halsall, the young Mancunian trumpeter now on his fourth album, 
Fletcher Moss Park
, takes to the stage to a sold out house, with a four piece line-up up of pianist Taz Modi, Rob Turner on drums and bassist Gavin Barras. Halsall stands only when he plays, otherwise crouching on the decks as pianist Modi plays in with an elegant, percussive solo on "Music for a Dancing Mind", the first of several tunes from his 
On The Go
 album. When Halsall plays, he demonstrates a sky-blue tone smeared with cloudy spirits, a full-cream sound in an astral body, a spectral element. "Song for Charlie" is a slow, mournful 
seata
, a dialogue between lead trumpet, supple bass, brushed drums and piano. "The End of Dukkha" begins as the aural equivalent of a bas-relief in which half-recognisable figures emerge. The quartet picks up its weight and Halsall plays in the lower registers, with a low, strong and lingering power. They're joined on "Shabata" by harpist Rachel Gladwin, embarking on a slow, heat-seeking groove. "The Journey Home" is a full-ensemble exploration with an emphasis on group spirit over solo voice, and they're augmented for the last few, new and untitled numbers by Keiko Kitamura on Koto, and Shakuhachi player Clive Bell. Bell's Shauhachi takes the first solo against a pressure drop of bass, brushed drums and piano in a striking fusion of jazz and Japanese, and when it comes, Halsall's solo is breathtaking. This is great stuff. The audience is rapt – even the waiting staff between table orders, turn their attention to the subtle magic on stage.
http://www.theartsdesk.com/new-music/matthew-halsallzara-mcfarlane-ronnie-scotts
___________________________________________________________________________________
08/01/2013
A lovely piece by writer Robert Ryan
 A MODAL CITIZEN
It was broadcaster Robert Elms who first told me about Matthew Halsall's music. 'Mancunian Modal' he called it and it was a fair description – on Colour Yes, the first album I picked up (and have hardly put down since), the young trumpeter channels the sounds and ethos of Kind of Blue and late John Coltrane and Alice Coltrane. Last year, live at Ronnie Scott's, in the midst of a power cut, he even did Alice's Journey in Satchidananda (featuring Rachael Gladwin's harp and the great Coltrane-esque Nat Birchall's sax). If there was a slight unease about the whole project, it was that although he captured the mood and spirit of those Miles and Trane  albums perfectly, was there a danger of it becoming a retro dead end? The feeling at the end of the evening was: brilliant gig, but where does Halsall go from here? The answer is, all over the place. As well a gigging as a DJ, helming Gondwana Records and remixing, he is now running not one but two working groups (the regular band, usually a sextet, that plays Ronnie Scott's on the 24th of this month and a bold new trio with beats and electronics; not to mention the occasional 12-piece Gondwana Orchestra), as well as performing with those cutting-edge hipsters, the Brighouse & Rastrick Band.
Plus his new album, Fletcher Moss Park, shows a marked shift in direction, with various changes in personnel and a string section. Although recorded over a number of years, it has a genuine coherence, even when Halsall himself sits out for two numbers and lets the strings take the melodic weight.
Fletcher Moss Park, which is an actual green space on the fringes of Manchester, is elegant, reflective, tinged with melancholy at times, but like all Halsall's albums, very life-affirming. I'll be watching him at Ronnie's, but down the line I also can't wait to see his synth- and effects-laden trio with either the Cinematic Orchestra's Luke Flowers or GoGo Penguin's Rob Turner on drums, both hypnotic players to listen to and watch, and Taz Modi on squelchy bass lines.
___________________________________________________________________________________
20/12/2012
Matthew Halsall: Fletcher Moss Park – The Guardian review
Manchester trumpeter Matthew Halsall has just signed the burning fusion energies of rising local stars GoGo Penguin to the label he runs, Gondwana, but his own soundworld is more contemplative. His group combines 1960s modal-jazz looseness with the meditative music of Alice Coltrane, thanks to the presence of fine harpist Rachael Gladwin in the ensemble. This set is Halsall's heartfelt tribute to Manchester's Fletcher Moss Park, an important personal retreat from his city's turbulence. The leader's trumpet sound is pure and his phrasing graceful (his interests span brass bands as well as electronica and trip-hop). The tracks range from the swirling piano and harp sounds of Cherry Blossom, to the title track's glimmering harp sounds, arco bass and splashing cymbals, and the solemnly compelling low-trumpet epilogue, Finding My Way. That finale – joining the leader's horn, Taz Modi's alluring piano and Luke Flowers' inventively drumming – unleashes a quiet drive; the rather passive playing elsewhere on the set could have used a shade more of that. JF John Fordham The Guardian,  http://www.guardian.co.uk/music/2012/dec/20/matthew-halsall-fletcher-moss-park-review ___________________________________________________________________________________
19/12/2012
Matthew Halsall: Fletcher Moss Park – The Jazz Mann Review
"His most individual and personalised album to date – and arguably his best." "Fletcher Moss Park" represents Manchester based trumpeter and composer Halsall's fourth album exploring the musical legacy of Miles Davis' modal ("Kind Of Blue") period and the later "spiritual jazz" of John Coltrane, Alice Coltrane, and Pharaoh Sanders. "Sending My Love" (2008) and "Colour Yes" (2009) were followed by 2011's "On The Go", the first Halsall recording to be reviewed on this site. All three have a deeply personalised sound and atmosphere which Halsall takes a stage further on "Fletcher Moss Park", released on his own Gondwana label. Indeed there's an almost Zen like calm about the music here, the mood of contemplation enhanced by the bucolic surroundings that inspired it. Fletcher Moss Park in suburban Didsbury was donated to the city of Manchester in 1919 by Alderman Fletcher Moss, a well known philanthropist. The park includes a walled rock garden laid out by the botanist Robert Wood Williamson plus a variety of wildlife habitats. Little more than a stone's throw from the M63 the park represents a veritable oasis amidst Manchester's suburban sprawl. The area has provided Halsall with a respite from the rush of city life, an area in which to meditate and write and the music on the album is evocative of this spiritual retreat, it's the logical culmination of the journey documented on Halsall's previous three recordings. The personnel on "Fletcher Moss Park" includes many familiar faces from his previous releases with the nucleus concentrated around the regular members of his six piece working band. Fellow spiritual traveller Nat Birchall plays saxophone on the first three cuts, although his role is essentially textural, bassist Gavin Barras is a constant presence with piano duties being shared between Adam Fairhall and Taz Modi. Rachael Gladwin's harp graces four tracks and the drum stool is shared between Gaz Hughes and Luke Flowers. Elsewhere Lisa Mallett's flute is heard on the descriptive "The Sun In September" and an unusual string quartet (violinists Holly Simpson and Davinder Singh, cellist Adrianne Wininsky plus the double bass of Barras) appear on two back to back interludes. The seven track programme begins with "Cherry Blossom", the lush introduction featuring the glistening harp playing of Gladwin, a musician who now seems to be a more fully integrated member of the ensemble following her previous "guest appearances". The main body of the tune features Halsall's mellifluous trumpet meditations above Hughes' gently brushed grooves and Barras' deeply resonant bass pulse. Fairhall's piano is lyrical and flowing, capturing something of the fragility of the tune's subject. A lovely start. The mood is sustained by the introduction to the title track as Gladwin's harp intertwines with Barras' luxuriantly rich arco bass. The bassist then picks out a sturdy plucked groove which serves as the backbone for some richly textured ensemble passages plus unhurriedly eloquent solos from Halsall and Gladwin. "Mary Emma Louise" ("a tribute to someone special" says the press release) features the leader's long, wistful trumpet melody lines and a plangent solo above the quietly busy rhythms of Hughes and Barras. Gladwin's harp adds its distinctive lustre to the proceedings and there's also something of a feature for the consistently excellent Barras. Halsall actually sits out on the two string quartet pieces "Sailing Out To Sea" and "Wee Lan" (translation "Little Orchid") stating that the musicians involved captured his intentions perfectly without recourse to further embellishment. "Sailing Out To Sea" is a charming miniature full of delightfully rich string textures that evoke a certain poignancy. "Wee Lan" sees Barras putting down his bow and creating a bass figure around which the others gravitate, sometimes bowing but also playing pizzicato as they evoke the oriental imagery suggested by the tune's title. Like so much of Halsall's music this delightful musical morsel has a strongly descriptive quality. The final two pieces, "The Sun In September" and "Finding My Way" find Halsall collaborating with pianist Taz Modi and drummer Luke Flowers, musicians with whom he also works in an electronica influenced trio. The versatile Halsall also runs the occasional twelve piece ensemble the Gondwana Orchestra, works as DJ, producer and re-mixer, and has even collaborated with the Brighouse & Rastrick Brass Band, an experience that may have influenced the rich colours and textures to be heard on "Fletcher Moss Park". "The Sun In September" also features Gladwin's harp and Mallett's flute, the latter evoking both Oriental and Celtic images in a superb performance. Halsall's rich toned solo sounds flugel like,  with the understated accompaniment of Modi, Flowers and Barrass complementing the front line soloists superbly and with Gladwin also sprinkling some harp generated fairy dust on to the proceedings. The closing "Finding My Way" features the skittering, electronica influenced grooves of Flowers, an extension of his role with the trio and also a nod to his work with the Cinematic Orchestra. Modi also comes into his own here alongside the slightly melancholy ring of Halsall's trumpet. This is the most contemporary sounding item on the record but it still fits in neatly with the album's overall mood and ethos. "Fletcher Moss Park" is less obviously in thrall to Davis and Coltrane than Halsall's previous offerings and as such represents his most individual and personalised album to date – and arguably his best. The mood of contemplation and spirituality is maintained throughout, it's as if William Blake had taken up the trumpet and moved to Manchester. Reviewed by: Ian Mann Wednesday, December 19, 2012 http://www.thejazzmann.com/reviews/review/fletcher-moss-park/ ___________________________________________________________________________________
03/12/2012
Matthew Halsall: Fletcher Moss Park – BBC Music Review
Manchester musician carves a strong individual identity on album four.
Daniel Spicer
 2012-12-03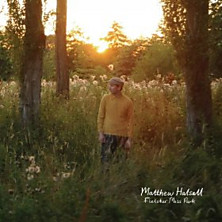 Since the release of his 2008 debut, Sending My Love, Manchester-based trumpeter and composer Matthew Halsall has worked through his influences, album by album, in pursuit of an original voice. His first few albums displayed a clear debt to the spiritual jazz of Pharoah Sanders et al, viewed through the post-trip hop haze of 
The Cinematic Orchestra
; and 2011's On the Go dipped into 
Art Blakey
's 50s hard bop. With Fletcher Moss Park, Halsall has nailed a compelling musical identity of his own. The seeds had already been sown. On the Go's Song for Charlie was a diaphanous ballad with sighing brushwork and melancholic melodies that made Halsall – along with guitarist (and Cinematic Orchestra member) 
Stuart McCallum
 – a key figure in a nascent Mancuniana, creating bittersweet, gently-grooving, down-tempo soundtracks for the city's rain-soaked rooftops. Fletcher Moss Park – named after a peaceful oasis of parkland in Manchester's urban bustle – develops the idea still further. Pieces like the title track and Cherry Blossom use gentle rhythms, simple bass hooks and spacious themes to create understated, introspective moods that owe as much to 
Erik Satie
 as they do to 
Miles Davis
. Like Miles, much of Halsall's skill lies not necessarily in his playing (which can seem a little tentative at times) but in his arrangements and knack for assembling a band. And here he's aided by some of the most talented players in the north of England. Saxophonist 
Nat Birchall
 and pianist Adam Fairhall both bring a depth that connects right back to the 60s and 70s spiritual jazz that helped form Halsall's aesthetic – with Fairhall's comping on the title track revelling in a stately, laid-back authority. And Rachael Gladwin's harp solos on tracks like Mary Emma Louise show Halsall's still happy to offer a respectful nod to 
Alice Coltrane
. On the most propulsive cut of the album, Finding My Way, Cinematic Orchestra drummer Luke Flowers offers a deceptively driving groove of sticks, snare and rim-shots that nips along like the late-90s acoustic drum'n'bass experiments of 4hero. But it still feels like a beautifully happy-sad afternoon drinking hot sweet tea and watching raindrops run down the windowpane.
http://www.bbc.co.uk/music/reviews/44nv
___________________________________________________________________________________
29/11/2012
Matthew Halsall Trio (Live) + GoGo Penguin (Live) + Nat Birchall (DJ Set) @ Band on the Wall in Manchester

___________________________________________________________________________________
28/11/2012
Matthew Halsall: Fletcher Moss Park Mojo Review

Inspired by the beauty of local Didsbury greenery, the Manchester trumpeter again upsets the purists but delights romantics, adding harp, flute and string trio, for a meditative album of haunting eastern influenced spiritual jazz. AM
___________________________________________________________________________________
04/11/2012
The Gondwana Records Story: Retro and Future Jazz Sounds
A small jazz label doing adventurous work is as newsworthy as dog bites man, I know, but to the roll-call of the worthy independents ASC, Babel, Basho, Candid, Edition and F-Ire, can be added the name Gondwana, which came about when Manchester trumpeter Matthew Halsall sat in at Matt and Phred's jazz club, and decided that the talent on display needed an outlet. Releases so far include four from Halsall, and three from saxophonist Nat Birchall. "When I first saw Nat play," recalls Halsall, "he was playing 'Journey in Satchidananda', the Alice Coltrane tune, and I was [thinking], this guy's exactly on the same wavelength as me." The affinity between the two musicians is strong. They regularly appear on each other's records and tend to draw on the same pool of players, including harpist Rachael Gladwin, bassist Gavin Barras, and pianist Adam Fairhall, giving the label an identifiable sound – the modal explorations of Miles and Trane reflected through Halsall and Birchall's own deep feelings – and titles such as Birchall's Sacred Dimension suggest a ready classification: Spiritual Jazz. Halsall has no problems with the term. "I studied at the Mahareshi Meditation School, so I did a lot of meditation and studied a lot of philosophy and Indian meditation, and I've also studied Buddhist meditation, and Nat's partner teaches Yoga, and he's into all sorts of spiritual philosophies. So it definitely is a part of who we are as individuals, and it's become part of the sound of the label." And, bucking the trend of the jazz economy, the venture is gratifyingly successful. "We haven't lost a penny yet," says Halsall. "We're in profit on every single record and we've had enough profit to continue making future releases. The first ones from Nat and me made enough to get our money back and make another record. And then each time we've made another record it's made more money, so we're getting more and more money each time. Apart from slowing down, it seems that sales are increasing on every release." It helps that the music is immediately attractive: serene, quietly yearning, marked by restraint and space. Halsall's latest, Fletcher Moss Park, embellishes with the textures of flute and harp and string quartet. If it sounds bucolic, it may be because the pieces were composed in nature's bower: "I like to make music in different environments, so I'll make music in the park, or in a nice pub somewhere. Wherever I take my laptop, I'll make music there." Hence, the title of the album: much of the music was actually conceived in Fletcher Moss Park, Manchester's most prominent botanical garden and wildlife habitat. But does he favour the nicely cultivated garden or the wilder bits? "Both," says Halsall. "Some of it was written in the top bit where the cafe is, because I like a good cup of tea, so I sit in the cafe area looking down on the botanical gardens, and then I'll also write down in the wilder bits further up." Halsall elaborates on his working methods."I tend to not think about what I'm creating. I just go with my gut instincts. If I'm liking the sounds of the notes I'm playing on the piano, or on a laptop than I go with it. Each month I'll have ten tracks that really stand out and they're the ones that I'll take into the studio. They're just ideas at that stage, bare melodies, bass lines and chords. Luckily, there's always about six that work." If I have a criticism, it might be that the music offers a gloss on Miles' Kind of Blue, and Kind of Blue is now more than half a century old. Halsall concedes the point and explains: "The artists I listen to, they always started in something that was either of the moment or [distilled from] past moments, and then they start to mould it into their own thing, expanding their influences and listening to new music. I'm still finding my way with various technologies and all sorts of new techniques with my trumpet. I want to make a stand-out record that people will look back to like they did with Miles' electric, groundbreaking projects. But I'm not rushing to make the new sound because I want it to be really special when it comes out." Halsall's trio project, utilising trumpet, electronics, Rhodes keyboard, and drums, is more obviously bound for the outer limits, but has so far not been recorded. However, the latest release on Gondwana, marking a departure for the label, does offer a future sound of jazz, and a crackling, vital future sound of jazz too. The rhythms heard on Fanfares by GoGo Penguin didn't exist fifty years ago. Demonstrating that the piano trio is the most forward-looking vehicle in jazz today, Chris Illingworth's rippling arpeggios vie with unexpected and spooky noises that can be traced to Grant Russell's bass more by elimination than anything. Remarkably, Russell emulates electronic textures with just a bow, reproducing the shock without the synthetics. Drummer Rob Turner can turn rhythm on a hairpin, dividing and then sub-dividing the beat into discrete parts for spontaneous counterpoint. He is a marvel. Esbjorn Svensson is a reference point, yes, in the invigorating use of diminuendo and crescendo, but Queens of the Stone Age are in there too (their showstopping cover of 'Song for the Deaf' is not included, alas). Techno and rock influences abound in a sound that is essentially simple, melodically-based and brimming with positive energy. How Manchester! Posted by Mike Butler on Sunday, 4 November 2012 http://www.dyversemusic.com/2012/11/the-gondwana-story-retro-and-future.html ___________________________________________________________________________________
GONDCD007 – Matthew Halsall – Fletcher Moss Park (2012)
Matthew Halsall's new album 'Fletcher Moss Park' will be released on Gondwana Records on Monday 15th October 2012. ___________________________________________________________________________________
23/11/2012 – Matthew Halsall Trio (Live) – Soundcrash @ The Forum, London
Soundcrash presents a celebration of live Jazz in its many variants; from Seun Kuti's devastatingly infectious Afrobeat to Jazzanova's love affair with electronica and Matthew Halsall's deep spiritual jazz. We're in for a very special evening of music excellence. Join us! ________________________________________________________________________________________
10/11/2012 – Matthew Halsall Trio (Live) – Wah Wah Live @ The Scala, London
Matthew Halsall will be performing live at Wah Wah Live at The Scala in London on Saturday 10th November 2012. _________________________________________________________________________________
21/10/2012
Label Love Vol. 5: The Jazz Edition
Label Love is an eclectic yet unified bundle of unique sounds compiled simply for the love of sharing them with the universe – each track plucked and presented by Jazz heads from Tru Thoughts Recordings, Impossible Ark Records, Gondwana Records, Jazzman Records, Edition Records, Katalyst Entertainment, Revive Music Group, and Basho Records. Label Love Volume 5: The Jazz Edition showcases a broad range of Jazz, with the goal of expanding minds to the magical genre and its many forms. Each label and artist evokes its own signature giving this collection a diversified and interesting flow. Label Love consists of nostalgic jazz classics, unreleased gems, and exclusive selections. Feel free to blog, play, tweet, blast, post, etc … please share the love of Jazz. http://labelloveworldwide.bandcamp.com/album/label-love-vol-5-the-jazz-edition _________________________________________________________________________________
15/09/2012 – Matthew Halsall Trio (Live) @ Imperial Wharf Jazz Festival 2012, London
Mathew Halsall Trio will be performing live at Imperial Wharf Jazz Festival in London on Saturday 15th September 2012. ________________________________________________________________________________________________________
Matthew Halsall Trio (Live) @ Soundwave Festival 2012, Croatia
We had an amazing time @ Soundwave Festival 2012. Big ups to all who made it down to the festival and the people behind the scenes for making it such a special event!!! ___________________________________________________________________________________________________________________
22/07/2012 – Matthew Halsall Trio (Live) @ Soundwave Festival 2012, Croatia
Matthew Halsall will be performing live at Soundwave Festival in Croatia on Sunday 22nd July 2012 at 6pm. ___________________________________________________________________________________________________________________
Matthew Halsall Trio (Live) @ Worldwide Festival 2012, France
Wow had such an amazing time @ the Worldwide Festival in Sete, France. Theatre De La Mer has to be one of the best venues in the world!! Big ups to Gilles Peterson and all the people at the festival. ___________________________________________________________________________________________________________________
06/07/2012 – Matthew Halsall Trio (Live) @ Worldwide Festival 2012, France
Gondwana Records is very pleased to announce that Matthew Halsall will be playing the Theatre de la Mer stage at this year's Worldwide Festival! ___________________________________________________________________________________________________________________
Matthew Halsall with Brighouse & Rastrick Brass Band (Live) @ Holmfirth Arts Festival (YouTube Video)
Matthew Halsall with Brighouse & Rastrick Band covering The Cinematic Orchestra's 'Ode to the Big Sea' @ Holmfirth Arts Festival on 16th June 2012. ___________________________________________________________________________________________________________________
16/07/2012 – Matthew Halsall with Brighouse & Rastrick Brass Band (Live) @ Holmfirth Arts Festival 2012
Matthew Halsall is currently working on a special project with a 28 piece brass band (Brighouse & Rastrick Band). In this project Matthew and the band will re-arrange his compositions and perform them live as part of the Homlfirth Arts Festival on 16th June. ___________________________________________________________________________________________________________________
Matthew Halsall (Live) @ Spring Festival 2012, Austria
We had an amazing time at Spring Festival in Graz, Austria. Big thanks to Gilles Peterson, Patrick Forge, Janine Dingwalls and all the people at the festival for making it such a special night. ___________________________________________________________________________________________________________________